Latest News
Democratising tools to generate emerging investment opportunities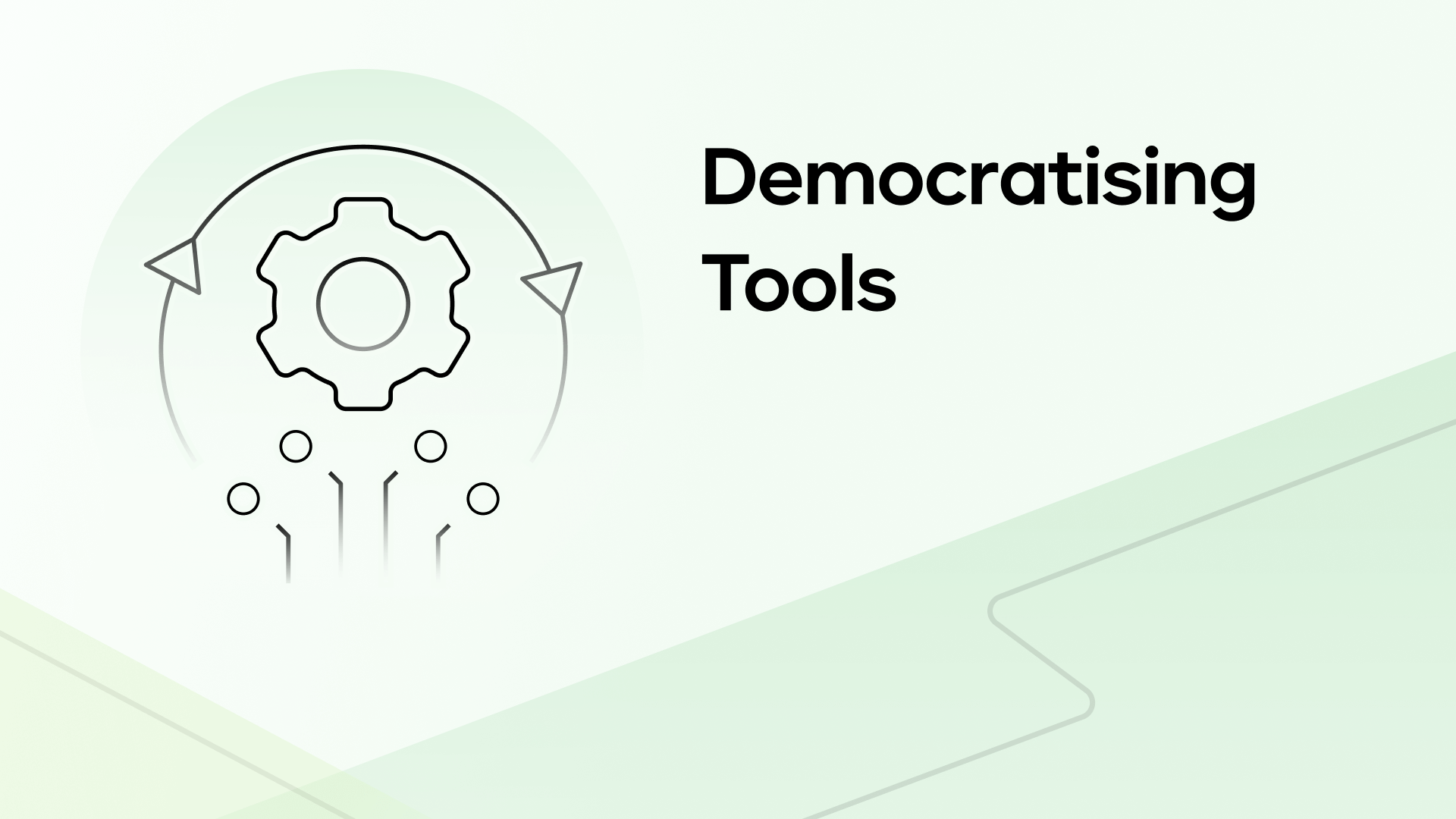 Our lives are more and more dominated by technology in various areas including: communication, entertainment, social life and finance. Very often in web 2.0, 2.5 and even some (though less) web 3.0 platforms access to such tools will come at a significant cost, with limited options, lack of privacy and more. In this article we would like to focus on the financial aspect of our lives, current dynamics in standard web 2 platforms and gradual transition to web 3.
When we started the Earn Network platform, our goal was to create a truly open financial marketplace that's ready for tomorrow. A place where opportunities and consumption of those opportunities is fully driven by the creators. Moreover, not only the creators that are technically savvy, but also people that currently are used to web 2.0 platforms and would benefit from easy onboarding to a web 3.0 platform to generate value.
To give a simple example from the Lending space: If you want to borrow money and pay interest on your loan you're effectively a creator of a financial opportunity. The lender, a person that will give you the money, is effectively the consumer of this financial opportunity.
Product overview
To provide a mental image for you of what we are currently working on, we're sharing a few screenshots that demonstrate the form of creation of your own staking pool & own lending pool.
On the images below you're able to customise the audited template with your own parameters and deploy it almost instantly to the blockchain of your choice thus making it available to your community.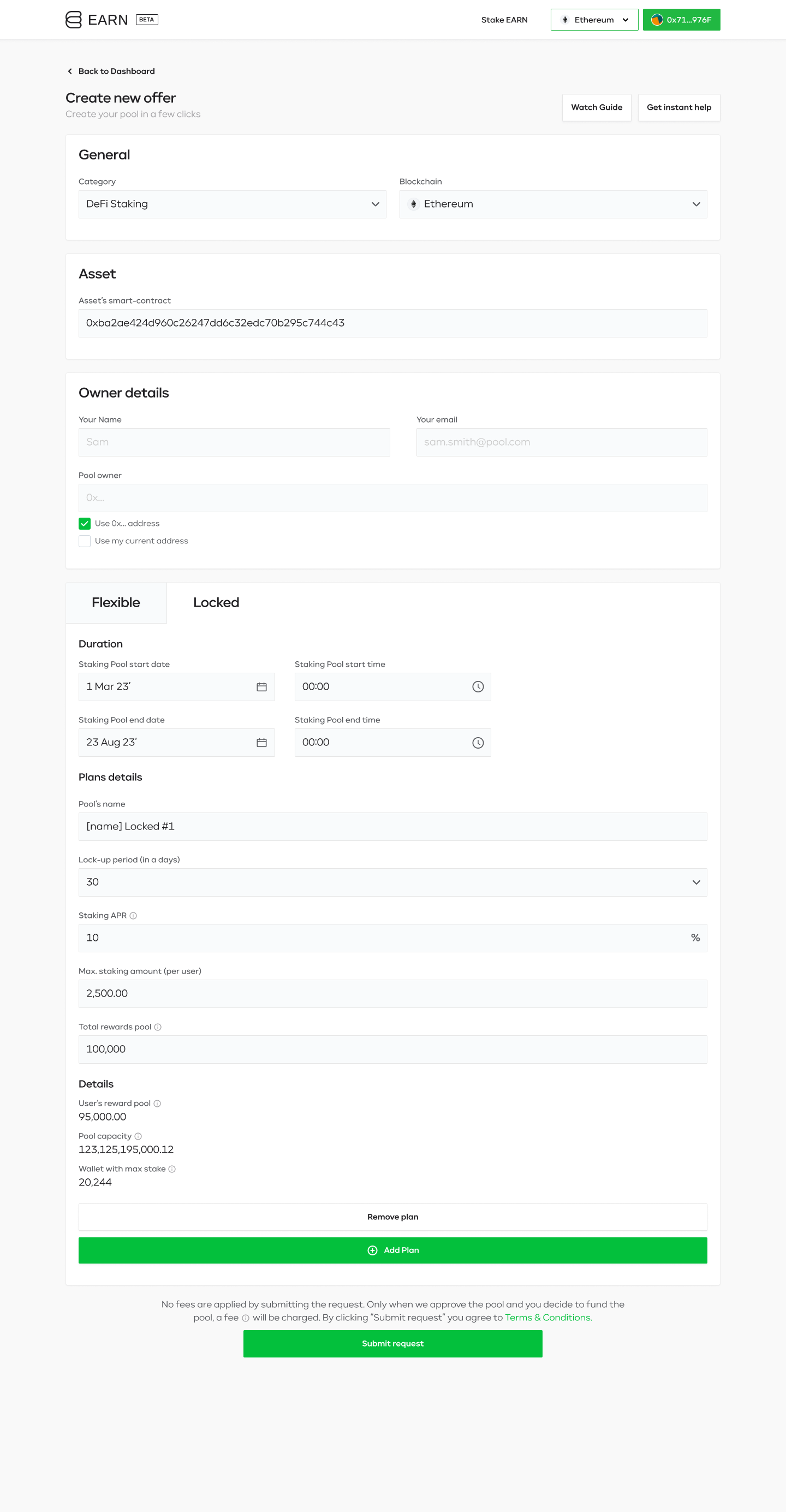 Use cases
The list of emerging investment opportunities is very vast. We will cover the ones that you're going to be able to use very soon via the self-service on the Earn Network platform:
Custom staking pool (Flexbile, Locked). User is able to set various timeframes of locking periods, unlocking penatlies and more. Any standard ERC-20 token (or similar) can be used as a reward. Live example.
Custom staking pool with NFT as a reward. User is able to stake tokens in locked pools and receives an NFT at the end of the period. Live example.
Custom staking pool gated by the NFT or an access code. User is able to access a staking pool with an NFT or access code. Rewards can be specified as an NFT or tokens.
Custom Isolated Borrowing pools. User is able to borrow on their own terms; some of those include: repayment schedule, APY, repayment token, borrowing token, collateralisation composition and much more.
Indices based on the token selection of a given individual. User is able to create their own thematic index based on their preference and choice of tokens. Such index can be available for any participants wishing to enter the position.
Ways to onboard millions to generate billions in a global economy with the help of self-service investment tools
Tools themselves are not sufficient to make a meaningful change in the world. Many other aspects that must go along with our core tools are equally important. Below, we have listed a few key areas on which we place special attention:
Providing secure & audited solutions. All of our deployed smart-contracts have been audited by Beosin. This gives you the confidence of being able to fully rely on an instance in your own pool once deployed.  
Covering useful cases that aren't meeting sufficient solutions. Our research team is constantly hunting for the next big opportunity to bring you the latest, cutting edge tech to fulfill your needs.
Excellent user experience and easy-to-use interface. Our UX Team takes care of every detail throughout the user's journey and accessibility of our tools.
Reducing costs of creating investment opportunities. You get access to tools that our developers spent hours upon hours developing. By lowering the cost barrier for you to deploy your own pool helps every community participant benefit.
Round the clock accessibility. Since our tools are available 24/7 you don't need to hire specialists to create your own solution or call the bank to negotiate a loan. Simply create a lending request on our platform and global community will be at the tap of your figner to provide you capital.
Providing educational content, guides and video tutorials. A lot of effort of our team goes to reach out to Pool Creators (potential users that are interested in setting up their own staking, borrowing, nft pools, etc). Such materials help everyone easily and convinientnly deploy on their own their solutions.
Always providing instant support and listening to the user's feedback. As you may have noticed, we provide an instant chat and feedback toolon our platorm . We stand by actively to help during any step of your journey to provide the most satisfactory experience on our platform for you.
Conclusions
We truly belive that by now, everyone knows how to become their own bank by simply storing their own keys. However, we want you to be more bold and encourage you to go one step further. We belive, that by providing you sufficient, easy-to-use solutions you can not only become a consumer of various investments but also an active creator of many new emerging opportunities that will benefit everyone.
As always, let us know your feedback.