Latest News
Earn Network Partners with MagicCraft to Introduce Staking Pools for $MCRT with exciting NFT rewards
The Earn Network is set to collaborate with MagicCraft for a new staking initiative for $MCRT asset. This partnership emphasizes the commitment of both parties to offer decentralized and non-custodial opportunities to the community, leveraging NFT technology.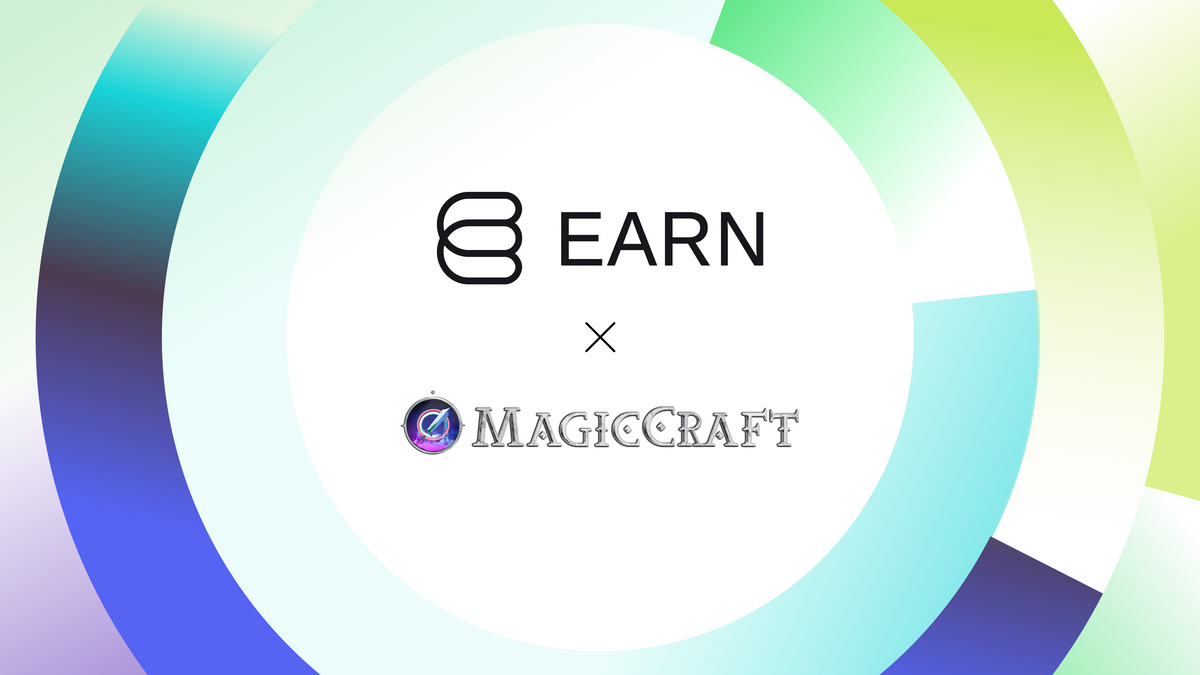 About MagicCraft
MagicCraft is a free-to-play multiplayer PvP MOBA game built on Binance Smart Chain. Available on PC, iOS & Android.

Prepare to embark on a thrilling adventure in a world of magic and wonder. Cast spells, brew potions, and team up with other players to take on epic quests and battles. With regular updates and events, the excitement never ends.
About Earn Network
Earn Network operates as a decentralized platform for yield generation, featuring a marketplace filled with various solutions. The platform is designed to be fully non-custodial, allowing users to have full control over their own assets.
MagicCraft x Earn Network working plans
The partnership is focused on launching $MCRT staking pools with token and NFT rewards. There will be two staking methods available for users to stake their tokens: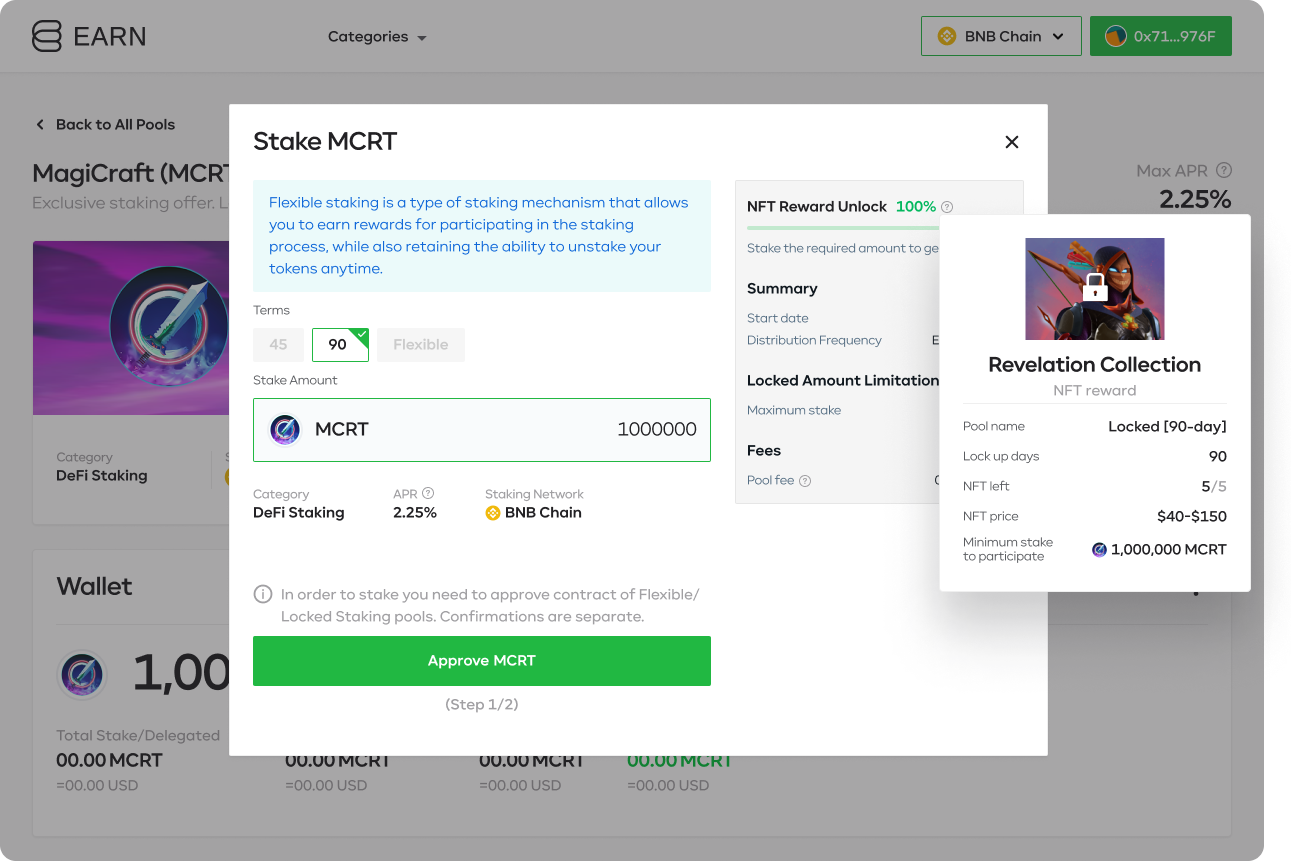 Flexible Staking: Users can stake and unstake their $MCRT tokens at their convenience, offering flexibility and liquidity.
Locked Staking: By committing their $MCRT tokens for specific durations, users can earn higher rewards. We will provide two lock-in options: 45-day and 90-day staking periods.
NFT Rewards

Building upon the MagicCraft x Earn Network partnership, we're introducing limited NFT rewards exclusive to early adopters in our staking pools. Unlike conventional gaming assets, these NFTs offer complete ownership and come loaded with a range of benefits that enhance both your in-game experience and yield on Earn Network.
Genesis NFTs: Stake a minimum of 450,000 MCRT in our 45-day pool to claim one of 20 unique Genesis NFTs. These aren't just collectibles; they entitle you to a share of prize pools from matches and grant you exclusive access to high-stake tournaments within the MagicCraft ecosystem.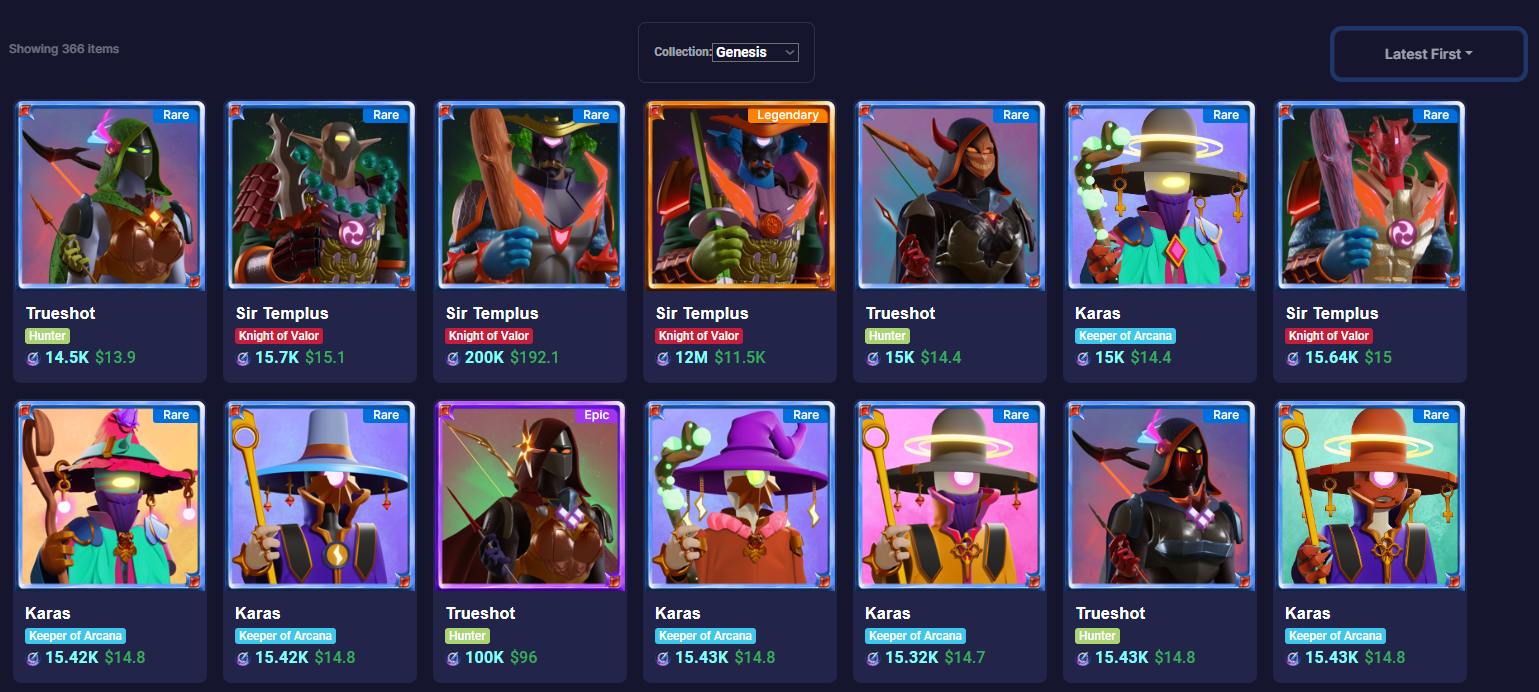 Revelation NFTs: Staking at least 1,000,000 MCRT in our 90-day staking pool, s makes you eligible for one of the 5 Revelation NFTs. These rare tokens not only provide a continuous income stream but also allow you to capitalize on winnings earned by other participants using these characters.

These NFTs aren't merely digital assets; they're an integral part of your MagicCraft gaming experience. They provide privileged access to matches, a share in winnings, and can be freely traded in the MagicCraft marketplace. Don't miss this limited opportunity to own an asset that bridges the worlds of gaming and decentralized finance. Secure your spot quickly; these NFTs are exclusive to our earliest stakers.
Stay Updated for More Information
The collaborative effort between Earn Network and MagicCraft is a noteworthy development for each. By offering these staking solutions, we're focused on rewarding our community and strengthening our collaborative footprint in the DeFi space, which we believe is vital for its long-term evolution.
---