Latest News
10 new assets are now supported in the Restaking category
The introduction of the Restaking category has quickly attracted numerous users eager to maximize their rewards through the platform's native staking options. This swift uptake indicates a keen interest in the platform's novel methods for enhancing yield.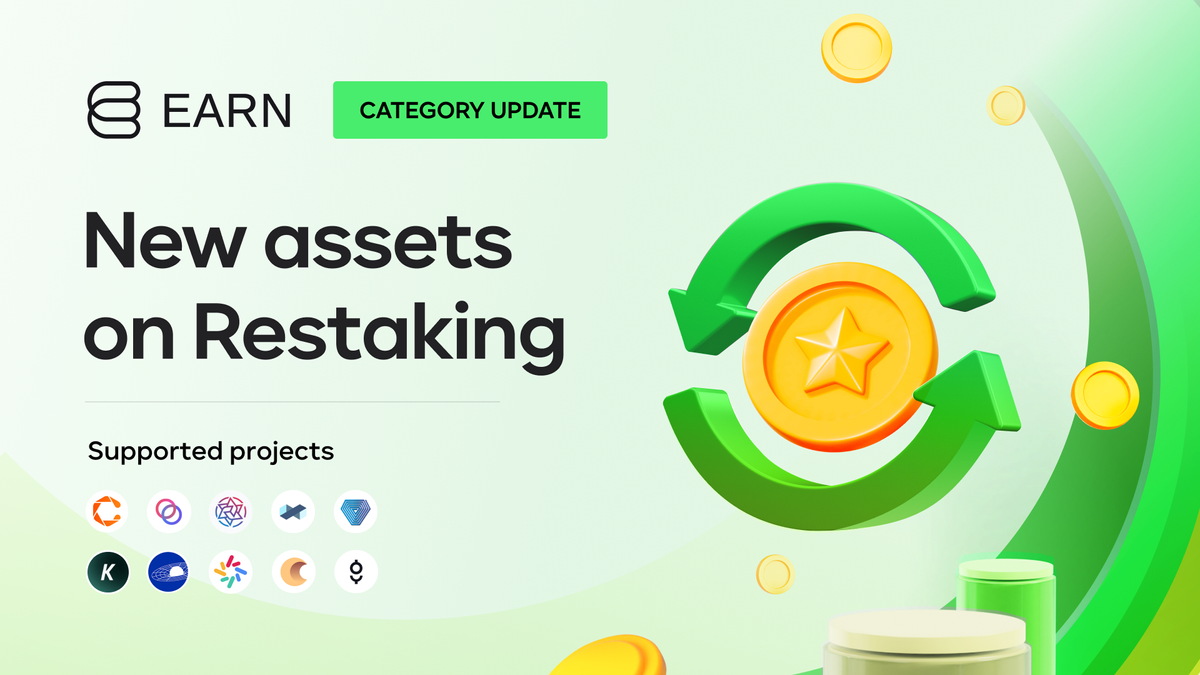 The Restaking category was launched recently and already brought many users wanting to earn more rewards while using native staking possibilities. This rapid adoption signals a strong interest in the platform's innovative approach to yield optimization.
With the integration of ten new networks, the Earn Network is expanding its reach, allowing more users to leverage the benefits of restaking. This addition underlines the Earn Network's commitment to providing a comprehensive staking solution that caters to a diverse array of blockchain ecosystems.
New Restaking partners
The Earn Network expands its restaking horizon with ten new blockchain partners, broadening the spectrum for users to compound their staking earnings efficiently. These collaborations signify a leap towards a more inclusive and versatile staking ecosystem.
At the core of the cheqd ecosystem lies robust governance. We consistently take pride in backing our validators, especially when they work to elevate our mission of putting users in control of their own data.

One of cheqd's core tenets has been to make things easier for users, whether they are developers, companies or users.

The Earn Network is helping deliver this for token holders through the recent introduction of the re-stake for CHEQ stakers - to make staking more user-friendly. We're looking forward to see what they bring next.

Fraser Edwards, CEO at cheqd
Rebuschain's partnership with the Earn Network is a significant stride in merging traditional finance with DeFi. Leveraging Earn Network's innovative Restaking platform, we aim to simplify and secure the DeFi experience for traditional investors.

This collaboration embodies our shared vision of empowering users in the decentralized space, marking a new era of accessible and efficient digital finance.

Nicola Onassis, CEO at Rebuschain
The Earn Network's dedication to enhancing user experience and fostering innovation in validator services resonates with IRISnet's ethos of user-centric design and technological advancement.

We look forward to exploring synergies that elevate the user experience within the evolving Web3 ecosystem.

Evie, IRISnet team
At the core of the Planq network are its validators and we are happy that the Earn Network has joined this group.

Their easy to use restaking feature enables users to seamlessly delegate and auto-compound their $PLQ for maximum yield potential with minimum effort.

We look forward to working together to improve the user experience of staking even further in the future and empower mobile users!

Thom, Community & Marketing manager at Planq Network
🤝 KYVE Network ($KYVE)
🤝 Gravity Bridge ($GRAV)
Summary
The launch of the Earn Network's Restaking category has quickly attracted a multitude of users, eager to maximize their rewards through innovative staking methods. This expansion, including ten new blockchain partners, showcases our dedication to a versatile and powerful staking ecosystem. Visit our restaking product to explore these new opportunities!