Latest News
Summary of October '23
Each month, we present a summary of our progress to document how the Earn Network ecosystem is growing. October was the next month full of interesting events that are making the Earn platform more important and recognizable in the DeFi world.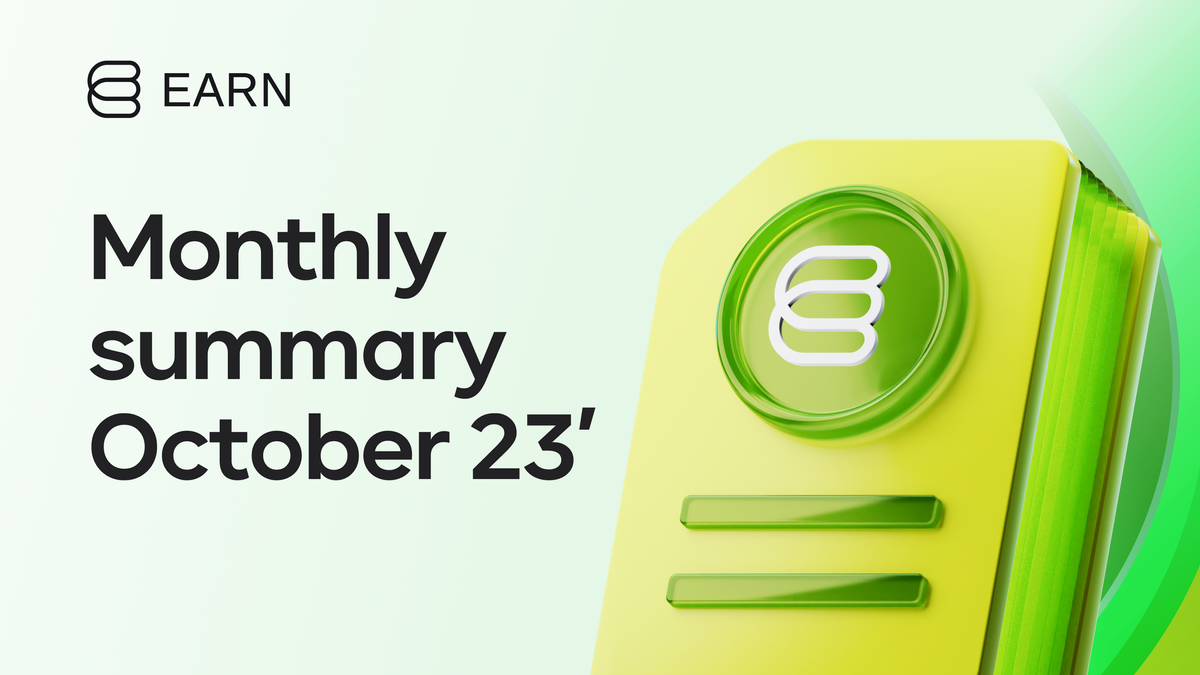 Hello Earners!

Throughout October, our team wholeheartedly focused on enhancing the Earn Network platform to bring you maximum benefits. We formed many valuable partnerships to create more ways to earn. Thanks to them, we've introduced two new lucrative categories, added new features to existing products, started various airdrops, and launched the latest initiatives for collecting EARN Points 🌟

Furthermore, we took your feedback into account and implemented enhancements to ensure more seamless in-platform operations. Your remarkable engagement throughout the previous month has been truly rewarding. Our ultimate objective remains unchanged: to deliver the finest experience within the realm of DeFi while maintaining simplicity ✨
Development Highlights 📈
🚀 The Restaking category was launched, allowing you to delegate and compound your rewards for maximum profits. The first supported dPoS blockchains are built with the Cosmos SDK engine and among them we have Bitsong, AssetMantle, Cudos, Decentr, Evmos, MediBloc, Oraichain, Persistence, Shentu, Sommelier and Teritori. You may check our partners' comments here about completed implementations of their assets. In the near future, new partnered projects will be introduced, offering you more investment diversification.
⚡️ The launch of Flash Pools marks the introduction of our second category enabled last month. Through collaborations with top industry influencers, we have introduced innovative, time-limited staking pools that offer exceptional rewards.
🎮 We have also expanded our offering in the DeFi Staking category. Users can now earn rewards from MagicCraft staking pools, with three active options to choose from which offer additional thrilling NFT rewards.
Key Numbers 📊
DeFi Staking: Currently, we actively support 20 projects boasting a total of 52 active programs and this number is steadily growing.
Restaking: Our Restaking category currently supports 12 projects, with many more set to join in the upcoming weeks.
Flash Pools: Our Flash Pools category proudly backs 6 community-contributed programs, enhancing the diversity of staking opportunities.
Moreover, the last month marked remarkable growth in various numerical aspects:
In terms of user engagement, we've facilitated a staggering volume of over $1,023,785 through 1716 active stakers💰👥
Notably, we've witnessed a tripling of our Total Value Locked (TVL), skyrocketing from $124,500 to over $342,000, further solidifying the trust our community has in our solutions 🔒💪
And let's not forget our thriving social media presence:
Our Twitter followers have surged, with an impressive gain of over 18,000 new followers, bringing our total to a remarkable 48,700 followers 🐦➕
In our vibrant Discord community, we've observed a significant increase in active members, with the number rising by over 4,100 within the month to reach a total of 22,270 💬🎉
Likewise, our Telegram group and Telegram Channel welcomed in a total of 32,680 new members, establishing a strong community of 137,730 members total 📨🌐
Upcoming Expanding Offer💡
Community Growth 👥
We've settled up a tone of community-focused partnerships 🤝 Our efforts have been rewarded as we have achieved a spot in the top 10 communities on Zealy 🏆 The anticipation surrounding the upcoming $EARN public sale has attracted a growing number of individuals to join our ecosystem.
We have collaborated with highly reputable industry influencers, collectively reaching over 815,000 followers. 🌟
This includes @0xFinish (25,200), @Abrahamchase09 (132,300), @blockscriber (4,435), @CosmosHOSS (54,800), @CryptoKoryo (27,000), @CryptoYoddha (34,200), @cyrilXBT (76,400), @ganymede_0x (20,300), @izu_crypt (4,877), @mapletarzan (15,600), @MoonKing___ (44,900), @C_POTENS (45,700), @PrudentSammy (77,800), @SamuelXeus (110,700), @TheDreamCrypto (3,470), @WisdomMatic (136,400), and more.
Our CEO, Bartosz Pozniak, recently participated in Oraichain's AMA hosted by CosmosHoss 🗣️💬 It was a great chance to discuss topics across the Cosmos ecosystem and Earn Network's involvement strides in its evolvement.
New Initiatives 🎁
Earn Network's Ecosystem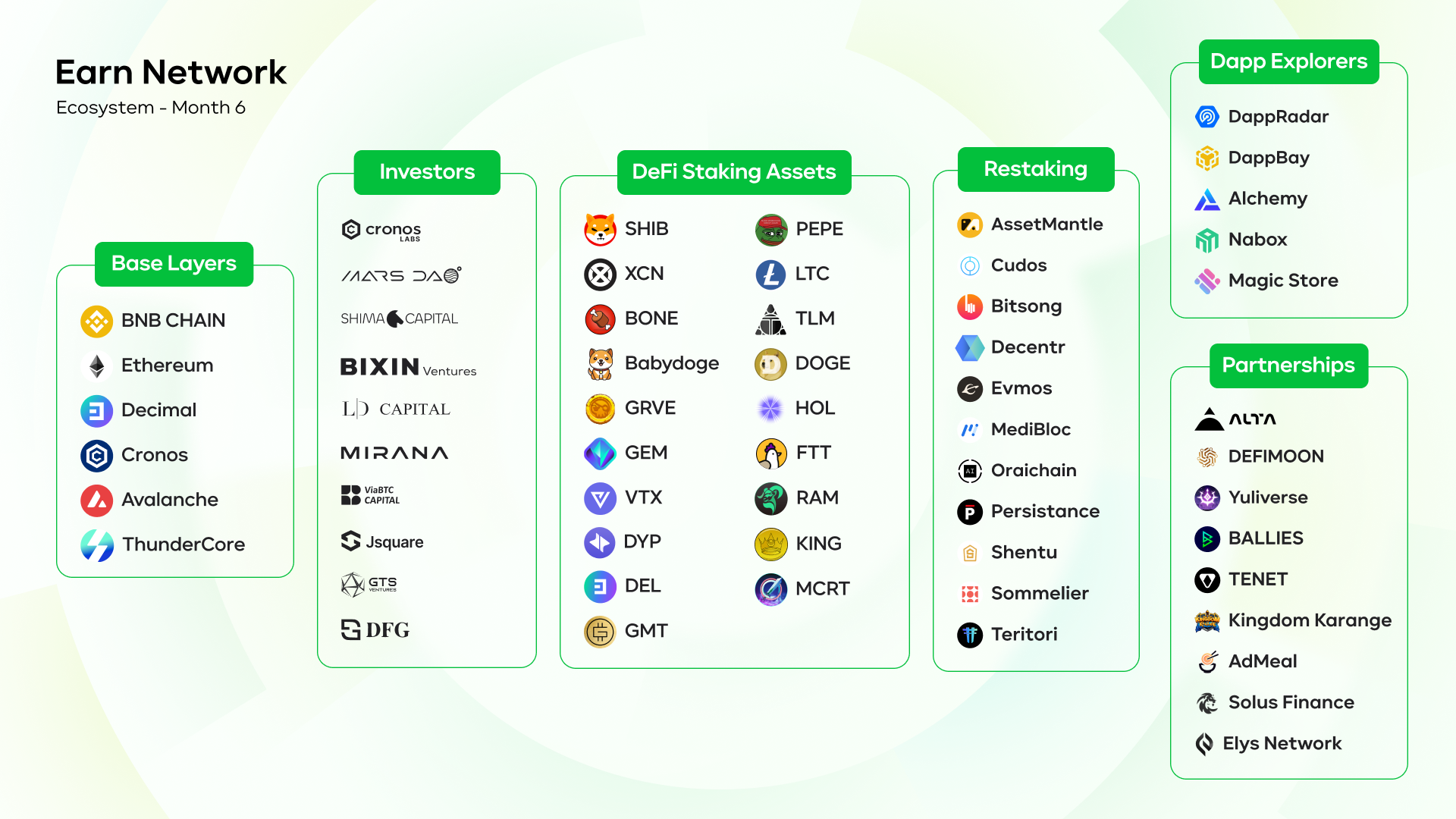 As always, we would love to hear your feedback. If there's something we can improve, please let us know.
Below you can find the summary from September '23.